Employee Spotlight: Austin Doughty
Austin Doughty is a Structural Designer at Top Level Engineering, and has worked in this position for 2.5 years. Currently residing in Ashburn, VA, he is a proud native of West Virginia, who grew up in the Charles Town/Shepherdstown area, and is TLE's lone representative from the Mountain State!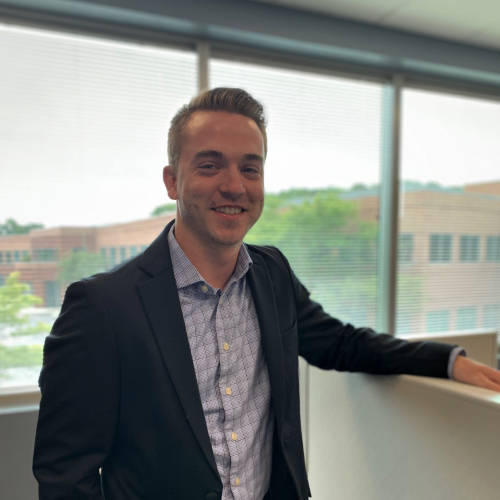 Austin attended Marshall University in Huntington, WV and graduated with a Bachelor of Science in Engineering with a Civil emphasis and a minor in mathematics in 2018. After taking a few months off after graduation, Austin was promptly hired by TLE, and has expanded his skillset by working on a series of exciting projects since he joined the firm.
Wild and Wonderful Childhood
Since he was a child exploring the lush forests and raging rivers in West Virginia's Eastern Panhandle, Austin knew he loved mathematics and problem solving. During his school years, he possessed a natural excellence in math that fueled his desire to study engineering in college. This led him to Marshall University, where he enrolled as an engineering major and continued to grow and love his studies with each new engineering and math class he completed.
Landing His First Job at TLE
After finding the job online, Austin was thrilled to be hired by TLE in 2018. Working at a small engineering firm has given him unique exposure to many facets of the engineering business that he would not likely gain at a larger firm. This includes working directly with senior TLE engineers on various projects and having direct interaction with clients. Despite his junior status, he has also been involved in the process of performing structural calculations, putting together contract drawings, reviewing shop drawings, and providing responses to requests for information (RFI's). Rather than being trained as a specialist in one area, working at TLE has given Austin "exposure to many sides of the business," which is a great opportunity for a young engineer.
Working Corporately During COVID
Austin has also enjoyed being able to come into TLE's Sterling, VA-based office space throughout the COVID pandemic. Working together with the older, more experienced engineers has definitely been good for his state of mind these last 14 months, and has enabled the team to work collaboratively and more effectively (while following CDC guidelines) on many interesting projects.
Notable Projects
Some of Austin's favorite projects include his contributions to the design of an apartment complex near his hometown of Charlestown, WV. He also enjoyed working on the design of the Lost Barrel Brewing Company in Middleburg, VA – an open design that he appreciates and (as a beer lover) intends to check out in-person very soon. He is also proud of the clock bracket mounting that he designed for a three-foot diameter clock mounted on the side of one of the buildings in the Union Market complex in Washington, DC.
Challenges
Every job has its challenges – but for a born problem-solver like Austin, these challenges often become inspiring. He has found that learning the building codes for certain jobs and designing within those parameters is sometimes difficult. He also works hard to meet clients' expectations when it comes to new designs and ideas, as he never wants to submit the same idea twice. Also, with wood prices on the rise in the U.S., remaining cost-effective and staying within budget for certain designs has been extremely challenging…but all part of the fun.
Looking Toward the Future
Later this year, Austin intends to take the Fundamentals of Engineering (FE) exam in pursuit of his Engineer in Training (EIT) certification. Then in 2022, after four years of professional service, he plans to take the Professional Engineering (PE) exam that will grant him his PE license.
When he is not working or studying for the FE exam, Austin loves to play soccer. He enjoys both playing and watching sports; hanging out with friends, hosting board game competitions, and spending time with his beloved dog and cat. He also enjoys checking out local Virginia breweries with friends.
Austin is very hopeful that TLE's success endures, and that the company can keep contributing to important construction projects throughout the DC region. In the meantime, he looks forward to participating in the behind-the-scenes engineering work that continues to grow and transform the local landscape.