Project Spotlight: Lost Barrel Brewery
Shortly before lock-down began in February 2020, Top Level Engineering was approached by Utica Contracting, Inc. of Sterling, Virginia to take on a unique construction project: developing plans for the main brewing building at Lost Barrel Brewing Company – a brewery and event space located on a bucolic farm west of Middleburg, Virginia. This building houses the specialized brewing equipment used to produce Lost Barrel's hand-crafted beer and hard seltzer, as well as the kitchen where many of Lost Barrel's delicious artisanal menu items are prepared.
TLE jumped at the chance to work on this exciting project – and despite the global pandemic – submitted plans for the completed structure by June, with construction beginning shortly thereafter. Working alongside O'Neil Architects of Leesburg, Virginia who came up with the overall look and layout of the structure – TLE helped realize the client and architects' vision by designing a stable and constructible frame that was both aesthetically pleasing and built with many local, sustainable materials. In addition to the frame, TLE also designed the foundation, gravity lateral systems, and roof of the structure – with an eye toward keeping the design cost-effective, constructible and safe.
The End Result:
The result was an inviting 8,300 square-foot oversized farmhouse, framed entirely of wood, with exposed rafters and girders – that also features these notable engineering elements:
A 3,800-square foot bay area, constructed with tall studs, balloon framing and a pop-up roof to accommodate specialized brewing equipment.
Wooden walls hewn with locally-sourced Southern Pine, that extend to the very top of the bay area – without floors – in order to effectively fit the brewing equipment.
A 1,700-square foot mezzanine.
A 1,700 square foot covered walkway.
A roof with multiple profiles that meet, interconnect and work together.
Once the design process was complete, construction of new building progressed quickly throughout the summer and fall. Lost Barrel Brewing Company officially opened their doors in December 2020, receiving rave reviews from the public – and our clients could not be happier with the results.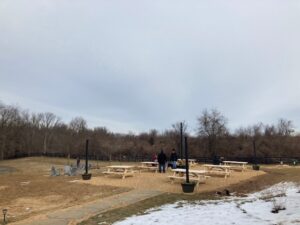 Visit Lost Barrel Brewery to see the project up close:
If you would like to take a look at these exciting engineering elements up close, then plan a road trip to Lost Barrel Brewing Company, located at 36138 John Mosby Highway in Middleburg. Check out their website at lostbarrel.com for hours of operation, menus and more. Good beer, tasty bites and great atmosphere await you – but don't forget your mask!
To view our portfolio of projects click here.