Top Level Engineering Designs Concession and Restroom Facilities at Loudoun County Park
At Top Level Engineering, being involved in the design of a community improvement project is always exciting. However, when that community is Loudoun County, Virginia – where our company is headquartered and many of our employees live – the experience is extra special.
This was certainly the case in July 2019, when TLE partnered with Stantec (www.stantec.com) – an international professional services firm working in the design and consulting industry –to design the restroom and concession facilities at Philp A. Bolen Park in Leesburg. Teaming with Stantec was a great thrill, and we couldn't wait to get cracking on the plans for this "hometown" project!
About Bolen Park
Bolen Park is an award-winning, 405-acre regional park that has something for everyone – from the outdoor enthusiast to the seasoned athlete. The park includes 200 acres of woods, meadows and stream valleys as well as 17 lighted sports fields, picnic areas, trails and a visitors' center.
These renovations are part of an ongoing effort to realize the dream of making Bolen Park a premiere destination for local and national sporting events, and compliments the recent construction of a soccer stadium in the park.
Our design recommendations
TLE's design for Phase II of the park includes four restroom and concession facilities, one of which is a two-story structure that will house a second-floor press area. This building will be windows-oriented with minimal obstructions to maximize visibility of the playing fields. The project also includes designs for special shade canopies for the existing bleachers.
TLE's design calls for buildings constructed with precast insulated wall panels with wooden roof joists and plank decking. The second floor of the press building will be constructed of concrete on metal deck with steel joists.
Each of the four buildings will feature inverted roof profiles with exposed roof framing throughout. The roof joists will be constructed of Alaskan Cedar glulam to provide better resistance to weather exposure, while providing strength for the large cantilevers.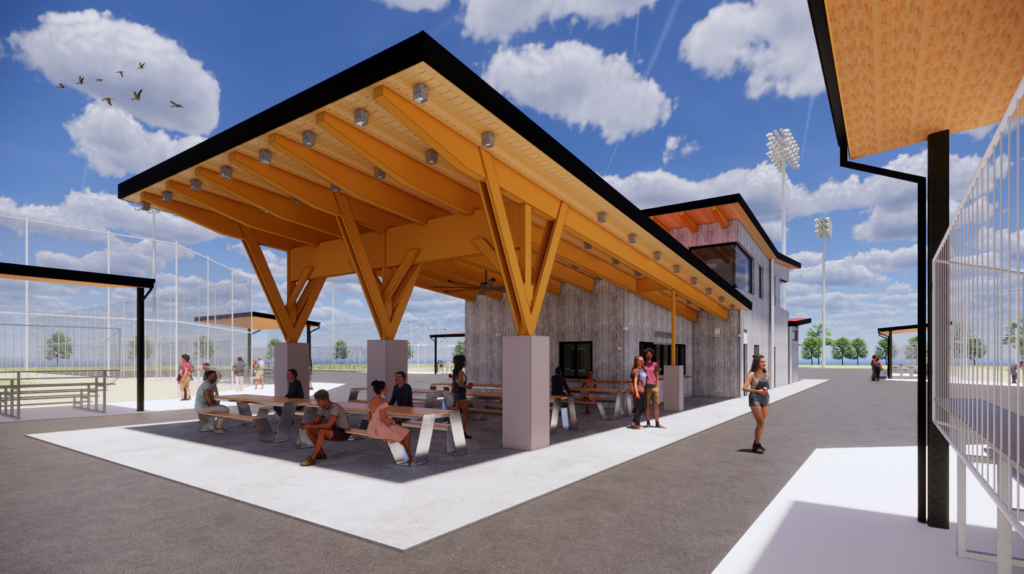 Challenges
When designing these four buildings, TLE had a few things to consider, including:
Finding the right roof shape and orientation for the buildings and shade canopies – These required a special design that would be favorable to wind and snow loading.
Designing framing that meets fire-rating requirements, while also being resistant to exposure– This was especially challenging forwood decking, therefore Southern Pine was selected for its strength and ability to accept fire retardant for occupied areas and pressure treatment for exterior areas.
Designing bleacher canopies that were strong, yet complemented the building designs – Therefore, steel was recommended for the cantilevered posts and beams, with wood framing inlays on the underside of the roof to mimic the building designs.
TLE's plans for Phase II of Bolen Park were completed in August 2021. The project was recently approved by Loudoun County and should begin construction very soon. Bolen Park is located at 42405 Claudia Drive in Leesburg, VA.